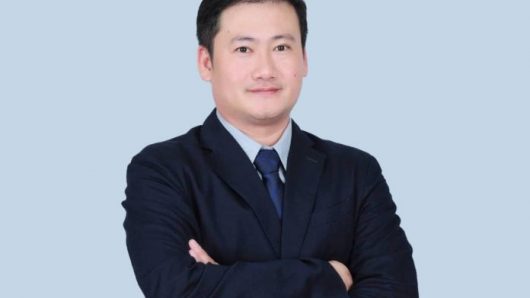 Cambodia Investment Review Leader Talks had an exclusive interview with the CEO of City Rice Import Export and the Cambodia Rice Federation's Vice President, Mr. Andy Lay.
In the interview, Andy shared his company's record forecast of over 100,000 metric tonnes of rice exports, his experiences of dealing with drought and floods, and his $15 million-dollar investment in the business.
City Rice Import Export Co., Ltd was launched in 2012 by Andy who carried on his parent's rice mill business named Lay Se Rice Mill that was established in 1996 at Thmorkol District, Battambang province.
A record-breaking amount of annual exports in 2020 for City Rice
Since then, the company has had tremendous growth, going from one of the smallest exporters with approximately only 12 containers per year to becoming Cambodia's top rice exporter in 2020, breaking the all-time export record of over 100,000 mT.
However, the recent rice safeguard measures by the European Union as well as the COVID pandemic have proven a tough time for the rice sector.
"We worked twice as hard than others to grow from one of the smallest exporters (ranked number 50th) exporting about 12 containers per year to become the number one in 2020," Andy said.
The total volume of Cambodia's milled-rice export in the first semester of 2021 was 280,450 mT dropping 29.47% compared to the same period in 2020. This drop was attributed to the lack of available shipping containers and the overall increase in freight costs.
Despite these challenges, City Rice alone accounted for 52,528 mT or 18.72% of total Cambodian rice export in the first six months of 2021. "Our vision is to have Cambodia's premium fragrant rice in all markets around the globe," Andy said.
The company is forecasting total milled rice exports, this year, to be over 100,000 mT. "90,500 metric tonnes had been exported by November 2021, no exporters have exported this much in a single year before in Cambodia rice export history," Andy said.
In addition, City Rice is committed to continuing to increase its overall export volume and expand into different markets for the premium rice sector.
"We plan to export 250,000 metric tonnes per year or 25% of Prime Minister Hun Sen's goal of One million metric tonnes by 2026," Andy said.
Inclusive benefits for all stakeholders amid tough times, says Andy Lay
Amid the effects of the flood on rice crops and cash flow in the rice sector during the harvest season, City Rice has been putting effort to ensure inclusive benefits for all stakeholders supported with funds from the Ministry of Finance under the Agricultural and Rural Development Bank (ARDB) loan.
"In the rice business, cash flow is the main obstacle in collecting paddy on time during harvesting seasons which we are really thankful for this support and hope the government is continuing to assist with the special loan to purchase the paddy from farmers until we can stand on our own feet," Andy said.
City Rice has bought approximately 120,000 mT of fresh paddy in 2020 and the amount has increased by almost 50% more in 2021 (around 160,000 mT).
According to the Asian Development Outlook report, issued in April 2021, agricultural production increased by only 0.5% due to flash floods in October that hit crop production.
"Every year, there are always either floods or drought in Battambang Province. But there is a saying, flooding is bad but always better than drought for rice farmers and millers."
City Rice mainly purchased the paddy from two main Provinces such as Battambang and Banteay Meanchey Province. There are provinces including Siem Reap, Kompong Thom, and Pursat, from which City Rice buys the paddy during the offseason.
"We at times have paddy shortage to purchase and we must find alternative provinces to source the best paddy if this happens," Andy said.
To ensure the best quality of rice and profits for the farmers, City Rice offers premium prices to farmers as a monetary motivation to grow for the best quality paddy.
"We work hard with all stakeholders from farmers, paddy collectors, bankers, traders to end buyers to find win-win situations for everyone" Andy added.
In addition, to contribute partly to the current concerns of global warming, thousands of metric tonnes of rice husk are supplied to an energy-generating company.
"We limited the waste and utilized the resources to the maximum level," Andy said.
Millions of dollars invested into City Rice as agro-exports increase
In preparation for the upcoming industry 4.0 evolution, City Rice has invested millions of dollars every year into integrating their machines and capacity expansion from drying and testing the paddy to milling and packaging the finished product.
"We have invested, so far, over $15 million on our Battambang facility with the state-of-the-art drying, milling, and reprocessing plants and warehouses," Andy said.
In 2023, the company plans to work on The British Retail Consortium (BRC) Food Safety Standard, which is the leading trade body for UK retailers, in addition to current certified standards such as GHP and HACCP.
Rice remains Cambodia's major crop, and value-added of crop production accounted for 57.4% of the country's agricultural GDP in 2020.
In July 2021, Cambodia exported 29,415 mT of milled rice worth $21.18 million, an increase of 3.53% compared to the volume exported in July 2020, stated in the Cambodia Rice Federation report.
The same report also stated that the export of 36.21% to the European Union, 36.13% to China and its autonomous region, 7.88% to the ASEAN market, and 19.79% to 22 other market destinations such as Gabon, Australia, UK, New Zealand. Etc.
Overall, the exports of milled rice for the 7 months of 2021 are 309,865 mT to $223.85 million.
Agriculture is also expected to pick up, growing by 1.3% in 2021 and 1.2% in 2022, underpinned by higher crop production after last year's flood damage, continued aquaculture growth, and rising agriculture exports to the People's Republic of China from a new bilateral free trade agreement, according to report by ADB in April 2021.
Source: https://cambodiainvestmentreview.com/2021/12/14/leader-talks-andy-lay-ceo-president-of-city-rice/